A Trusted Partner Giving You Peace of Mind
Secure and Reward Great Tenants, Report Rent Payments and Improve Your NOI
Pull Credit Reports
Search Tenant Records
Report Rent Payments to Credit Bureaus
Utilize Internal Recordkeeping
Report Debts Owed

How FrontLobby Works for Landlords
Landlords and Property Managers Can Run More Successful Businesses
Attract And Screen Tenants
Instant, easy to read, Credit Reports that include Tenant Records for just $9.99. 
Monthly Rent Reporting to the Credit Bureaus (Equifax and Landlord Credit Bureau).
Recover Rental Debt from Former Tenants with unpaid balances.
Working To Improve Renting For Everyone
Easy To Get Started, Managed In Minutes Per Month
"This is a fantastic value add tool that we're excited to be using. As Property Managers, it helps to reduce our risk but the bonus is that our clients and our tenants gain just as much from it as we do."
Jason, Vionell Holdings Property Management
Designed For Landlords And Property Managers
Screen and Reward Great Tenants, Report Rent Payments and Improve Your NOI
FrontLobby provides Landlords with the tools they need to choose the best Tenants. Credit Reports from FrontLobby are easy to read, instant, and affordable. With an applicant's permission to pull their Credit Report, you will receive:
Long-form Equifax Credit Report
Credit Score
Current and Former Addresses
Employment Confirmation
Credit History (tradelines)
Credit Balances
Collections
Bankruptcies
Inquiries
Tenant Records
Motivate and Reward On-Time Payments
FrontLobby's Rent Reporting tool allows Landlords to report monthly rent payments to the Credit Bureaus. Landlords who offer Rent Reporting help to reduce the time it takes for responsible Tenants to unlock and access future credit-related rewards. 
Responsible Tenants can opt-in to use their largest monthly expense to build credit and unlock the benefits of good credit. When a rental agreement is broken by an intentional nonpayment, the debt will be shared with the Credit Bureaus and will show on the debtor's Credit Report.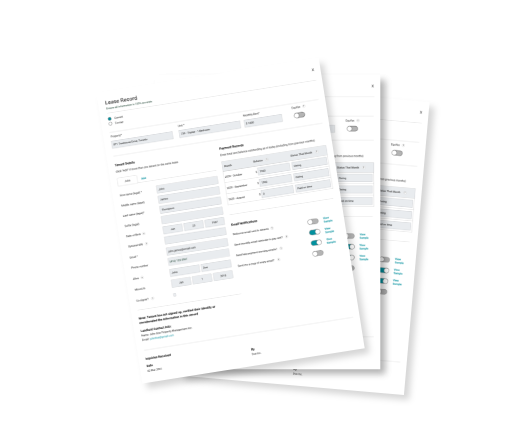 Recover Former Tenant Debt
FrontLobby provides peace of mind for Landlords facing the financial stress of former tenant debt. Landlords can report rental debt to the Credit Bureaus for the purpose of collecting the outstanding balance. The debt will show on the Tenant's Credit Report until it is cleared. 
Landlords who have been burdened with unpaid rent can stop chasing their former Tenants. With Debt Reporting, Landlords can inform their former tenants of the impact a debt has on their credit. Tenants with outstanding rent payments are motivated to contact you directly. 
For Tenants who wish to clear the rental debt but require additional time, FrontLobby enables Landlords to register payment plans. When both the Landlord and Tenant agree, a payment plan can be a win-win, Tenants can still build credit while Landlords reduce their tenant debt.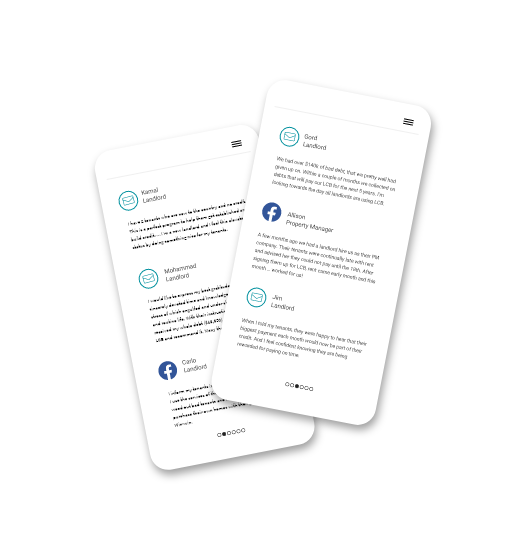 Loved by Tenants, Landlords and Property Managers

Dainard
It has worked wonderfully for us, and our current tenants are excited to have their credit scores improving ….
Former tenants paid their overdue amounts expeditiously ….


Vionell Holdings Partnership is extremely happy to announce our partnership with FrontLobby. This will allow our great customers to build their credit score faster by paying rent in a timely manner during their tenancy. This is a tremendous opportunity for new Canadians and students that would not have been able to build credit related to their rent payment history.

#propertymanagement #mb #realestate #bdnmb #multifamily



Candice
I'm asking my landlord to sign up for this currently!!

I've been paying on time and in full for 3 years, I'd love it to go towards my credit score.

I always pay my rent first thought, before anything else. So in case my credit score with Equifax isn't amazing I can show potential landlords I always pay my rent.

My kids always need a home.


Jeffery
It totally works. A previous tenant paid the owing rent even though they have moved out as it is reported on their credit bureau.


East Vista Management has recently implemented the services of FrontLobby to help tenants build their Tenant Record and the feedback has been incredible!

#tenantservices #tenantrelations #propertymanagement #incomeproperty #propertymanager #creditrating



Tao
It is no surprise to anyone that the rental industry is filled with negatives and mistrusts among landlords and tenants. I have been in this field for over 20 years and feel the pain everyone is struggling. Upon explanation, I was delighted that you guys have brought such a positive change to this industry to allow landlords and tenants to work together to build their great credit and future, while landlords feel much more secure on nurturing a trustworthy relationship with tenants.


This is the best way to reward great tenants who pay their rent on time. This system is easy to use and is very effective at deterring non paying tenants.

We have been using LCB for almost a year. We have found great success with this service. A couple of points, 1. LCB customer service is excellent, we receive an email and or phone call in a timely fashion for every issue. 2. Set up was easier than we thought, we have a number of properties each with their own unique leases and tenant information. The LCB staff walked us through it. 3. Providing our business with a way of holding our tenants accountable has been a game changer for us. The LCB has elevated us to the next level of professional property ownership.*********************** If I was starting out today, I would use their services.

Trina
I own a property management company and we just became a premium member … effective May 1. In my opinion, the benefits are well worth the fees, especially during times like these! Not only can we register delinquent or non-paid rent against our tenant's credit index reports, we can also collect outstanding rent through collections without an RTB order. I also love that we can reward tenants who pay rent in full and on time by increasing their rating! We are just about to announce to our clients that we are registered with the LCB and we can't wait!


Cher
This is amazing. I joined two days ago and reported tenants who don't pay, it immediately flushed them out. I also reported excellent tenants and I hope it helps them improve their credit scores. This is a great tool to reward behaviour of good tenants and hold non paying tenants accountable. If you are a landlord and haven't joined then you should.

I have been using LCB Services for a few months now, and I am very happy with it. I was able to report a past tenant's debt owed for unpaid utilities. As soon as the tenants started getting the reminder e mails of the debt owed and how it could affect their credit score, they reached out to me, and paid me what they owed in full. I will continue to use this tool, as I think it is very valuable. I get timely replies whenever I send them an e mail as well. Looking forward to when your "how to" videos are ready.

Alex
Thanks, it's already starting to work. The tenant reached out after disappearing for months.


Wyatt
I am using this service and my tenants are all fans of having their rent reported to help build their credit. I haven't had any delinquent payments, but it certainly is an incentive for tenants to pay their rent on time.


We have been using LCB for a while and I think all landlords should have LCB in their screening toolbox in a professional way. Landlords should take advantage of these kinds of tools that are available to them. It helps good tenants and landlords improve the overall renting experience / landlording business. Very good customer service as well.

Dani
I wish all landlords would do this … all landlords are requiring credit checks now, they should at least be offering to report good payments too. Sometimes getting a hold of the previous landlord for a reference is difficult, this would help people out so much.


Yoan
I have subscribed to your services a few months ago to have my rent reported to the credit bureau.
I have seen an increase in my credit report the first months.


Kamal
I have 2 tenants who are new to the country and no credit, This is a perfect program to help them get established and build credit.


Jarrad
Getting setup on the program was very easy, and when we reviewed my credit report after the first month of setting it up my credit score had increased by 37 points. I was shocked it would have such a positive impact on my credit score in such a short amount of time.

Ready to Make Renting Easier?