A Trusted Partner Giving You Peace of Mind
Secure and Reward Great Tenants, Report Rent Payments and Improve Your NOI
Pull Credit Reports
Search Tenant Records
Report Rent Payments to Credit Bureaus
Utilize Internal Recordkeeping
Report Debts Owed

How FrontLobby Works for Landlords
Landlords and Property Managers Can Run More Successful Businesses
Attract And Screen Tenants
Instant, easy to read, Credit Reports that include Tenant Records for just $14.99. 
Monthly Rent Reporting to the Credit Bureaus (Equifax and Landlord Credit Bureau).
Recover Rental Debt from Former Tenants with unpaid balances.
Working To Improve Renting For Everyone
Easy To Get Started, Managed In Minutes Per Month
"This is a fantastic value add tool that we're excited to be using. As Property Managers, it helps to reduce our risk but the bonus is that our clients and our tenants gain just as much from it as we do."
Jason, Vionell Holdings Property Management
Designed For Landlords And Property Managers
Screen and Reward Great Tenants, Report Rent Payments and Improve Your NOI
FrontLobby provides Landlords with the tools they need to choose the best Tenants. Credit Reports from FrontLobby are easy to read, instant, and affordable. With an applicant's permission to pull their Credit Report, you will receive:
Long-form Equifax Credit Report
Credit Score
Current and Former Addresses
Employment Confirmation
Credit History (tradelines)
Credit Balances
Collections
Bankruptcies
Inquiries
Tenant Records
Motivate and Reward On-Time Payments
FrontLobby's Rent Reporting tool allows Landlords to report monthly rent payments to the Credit Bureaus. Landlords who offer Rent Reporting help to reduce the time it takes for responsible Tenants to unlock and access future credit-related rewards. 
Responsible Tenants can opt-in to use their largest monthly expense to build credit and unlock the benefits of good credit. When a rental agreement is broken by an intentional nonpayment, the debt will be shared with the Credit Bureaus and will show on the debtor's Credit Report.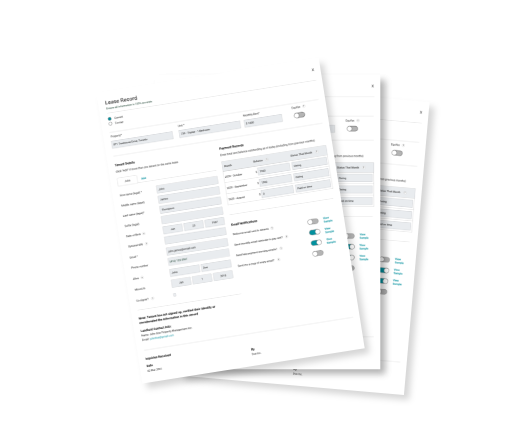 Recover Former Tenant Debt
FrontLobby provides peace of mind for Landlords facing the financial stress of former tenant debt. Landlords can report rental debt to the Credit Bureaus for the purpose of collecting the outstanding balance. The debt will show on the Tenant's Credit Report until it is cleared. 
Landlords who have been burdened with unpaid rent can stop chasing their former Tenants. With Debt Reporting, Landlords can inform their former tenants of the impact a debt has on their credit. Tenants with outstanding rent payments are motivated to contact you directly. 
For Tenants who wish to clear the rental debt but require additional time, FrontLobby enables Landlords to register payment plans. When both the Landlord and Tenant agree, a payment plan can be a win-win, Tenants can still build credit while Landlords reduce their tenant debt.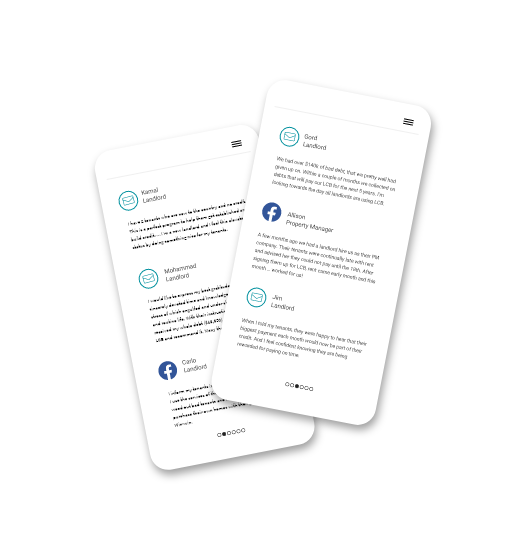 Loved By Tenants, Landlords and Property Managers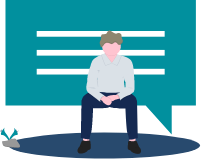 Steve, Landlord
Email Testimonial
My existing tenants are excited to hear that their biggest expense each month (rent) will now be reflected in their credit report. Likewise, they are aware of the consequences if they don't pay future rent on time.

Jarrad, Tenant
Email Testimonial
Getting setup on the program was very easy, and when we reviewed my credit report after the first month of setting it up my credit score had increased 37 points. I was shocked it would have such a positive impact on my credit score in such a short amount of time.
Allison, Property Manager
Collected from Facebook
A few months ago we had a landlord hire us as their PM company. Their tenants were continually late with rent and advised her they could not pay until the 18th. After signing them up for LCB rent came early last month and this month ... worked for us!

Darren, Tenant
Email Testimonial
I just checked my credit score, and it has increased by over 40 points. Didn't you just sign me up a month ago? THANK YOU!

Gord, Landlord
Email Testimonial
We had over $140k of bad debt, that we pretty well had given up on. Within a couple of months we collected on debts that will pay our LCB for the next 5 years. I'm looking towards the day all landlords are using LCB.

Tara, Tenant
Submitted to LCB
Learning I could improve my credit by paying my rent just made sense. I am so happy I read about LCB and now I am one step closer to buying my own home.

Kamal, Landlord
Email Testimonial
I have 2 tenants who are new to the country and no credit. This is a perfect program to help them get established and build credit…. I'm a new landlord and I feel this elevates my status by doing something nice for my tenants.

Patrick, Tenant
Submitted to LCB
My landlord signed me up which I am happy about. I never knew it even existed which I'm happy it does since my credit was average. Knowing it would help me grow it would be amazing. I've seen an increase since they have been reporting. I'm extremely comfortable with how they went and asked me about it.

Mike, Landlord
Email Testimonial
I just bought a property and have had some communication issues with the tenants. Within an hour of the automated email going out one of the tenants finally replied to my previous emails.
Candice, Tenant
Collected from Facebook
I'm asking my landlord to sign up for this currently (LCB)!! I've been paying on time and in full for 3 years, I'd love it to go towards my credit score.
Ready to Make Renting Easier?